Posted on: April 2, 2021
The Daikin iSmileEco Series just launched recently. What so special about this new product? It is moving ahead with times and will be running on R32 refrigerant. It also has a NEA 5 Tick energy rating and comes with built in adaptor card for smart phone control.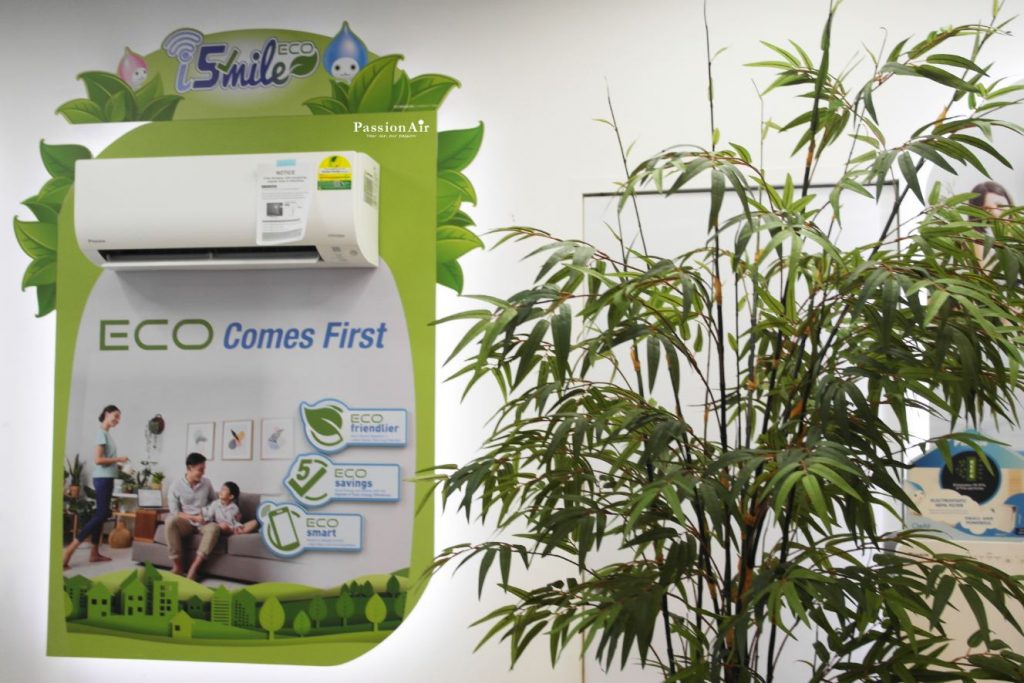 Why R32 Refrigerant?
R32 has the highest energy efficiency is able to achieve higher cooling capacity and the desired temperature faster. Save on your electricity bills and while reducing carbon footprint.
R32 enables your air-conditioners to use less refrigerant. With 20% lesser refrigerant charge as compared to R410A, R32 helps to reduce the emission of greenhouse gas.
R32 allows for a more compact & light weight design aircon outdoor unit. With lesser refrigerant charge, heat exchangers and other components have a smaller design.
R32 is more environmentally friendly. R32 has a lower Global Warming Potential (GWP) of 675 which is 1,413 GWP lower than that of R410A of 2088. The lower the GWP the better for the environment!  R32 is a single component refrigerant which makes reclamation easier while R410A is a blended refrigerant. Also, R32 does not deplete the ozone layer!
Eco first! Eco Treats!
For those choosing to install the Daikin iSmileEco R32 aircon.
Wait not further as you are able to enjoy a limited time extended warranty promotion from now till 30th June 2021. T&Cs applies.
Contact us to find out more!
Kinex Shopping Mall
11 Tanjong Katong Rd #02-51
Singapore 437157
Email: [email protected]
Tel: 6848 4884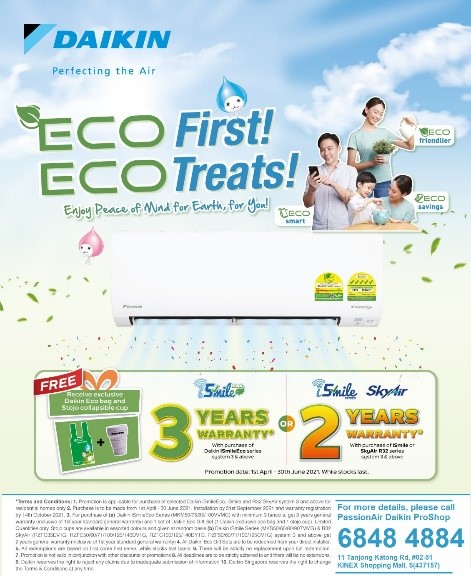 Terms & Conditions:
Promotion is applicable for purchase of selected Daikin iSmileEco , iSmile and R32 SkyAir system 3 and above for residential homes only.
Purchase is to be made from 1st April – 30 June 2021. Installation by 31st September 2021 and warranty registration by 14th October 2021.
For purchase of
(a) Daikin iSmileEco Series (MKM50/75/85/100VVMG) with minimum 3 fancoils, get 3 years general warranty (inclusive of 1st year standard general warranty) and 1 set of Daikin Eco Gift Set (1 Daikin exclusive eco bag and 1 stojo cup). Limited quantities only. Stojo cups are available in assorted colours and given at random basis
(b) Daikin iSmile Series (MKS50/65/80/90TVMG) & R32 SkyAir (RZFC35EV1G, RZFC50/60/71/100/125/140DV1G, RZFC100/125/140DY1G, RZF50/60/ 71/100/125CV1G) system 3 and above, get 2 years general warranty (inclusive of 1st year standard general warranty)
For purchase with Daikin Proshop Dealers, additional 3 months Proshop Warranty will be provided. If installation is using DSP materials, another 3 months extended warranty will be provided.
All Daikin Eco Gift Sets are to be redeemed from your direct installer.
All redemptions are based on first come first serve, while stocks last basis.
There will be strictly no replacement upon full redemption.
Promotion is not valid in conjunction with other discounts or promotions
All deadlines are to be strictly adhered to and there will be no extensions.
Daikin reserves the right to reject any claims due to inadequate submission of information
Daikin Singapore reserves the right to change the Terms & Conditions at any time.